Fruit and flavor preparations for dairy products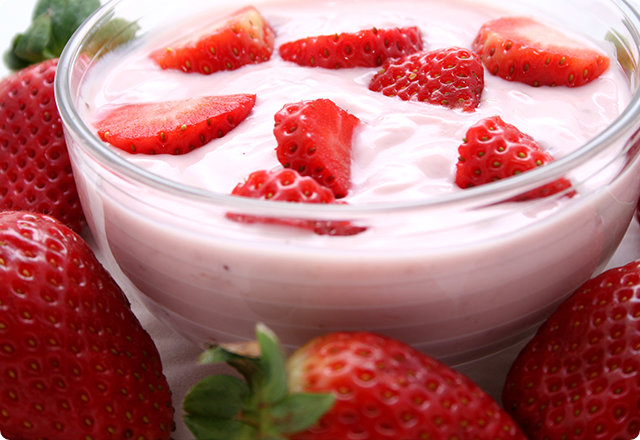 Wsady owocowe i smakowe dla mleczarstwa to nasza największa i najbardziej zróżnicowana grupa produktów. Stanowią znakomity dodatek wzbogacający i dopełniający smak produktów mleczarskich, takich jak jogurty, desery, napoje mleczne, serki homogenizowane, twarogi czy serki wiejskie.
W ofercie posiadamy ponad dwieście kompozycji smakowych. Najbardziej popularne to tradycyjna truskawka, wiśnia, malina i brzoskwinia.
Dużym zainteresowaniem cieszą się też zestawienia dwusmakowe na przykład brzoskwinia-marakuja czy malina-żurawina, jak również oryginalne połączenia, takie jak aloes-mięta czy czarna porzeczka-lawenda.
Produkujemy również dodatki smakowe: m.in. waniliowe, czekoladowe, karmelowe, kokosowe czy kawowe, które idealnie dopełniają smaku jogurtów, deserów lub napojów mlecznych.
W ofercie posiadamy też wsady "light" bezcukrowe oraz o obniżonej zawartości cukru, z certyfikatem BIO słodzone cukrem trzcinowym oraz koszerne.
Wyroby zostały opracowane na podstawie długoletnich doświadczeń i we współpracy z naszymi Kontrahentami. Mamy doświadczenie w opracowywaniu indywidualnych kreacji smakowych i rozwiązań dostosowywanych do potrzeb i wymagań linii produkcyjnych odbiorców. Zapewniamy pełną aseptykę pakowania wyrobów.
Opakowania:
Worki aseptyczne w kartonie: 25 kg
Zbiorniki ze stali nierdzewnej: 250, 600, 1000 kg